Zombies Of Mora Tau - 1957 (6/10)
The older I get & discover or rediscover these old horror chestnuts, the more I see how they subtly influenced modern horror. There's no way George Romero did not see & love this movie. You see Night Of The Living Dead all over it. Swank gang of treasure seekers follow a long line of murdered treasure seekers searching for sunken treasure on the island of Mora Tau. Zombie protectors guard the treasure. Really, some great visual moments & tons of campy, 1950's fun.
The Werewolf - 1956 (7/10)
Before the Universal horror movies made the jump to free-syndication in the late 50's (not anymore), American Boomer kids had never seen the Wolfman movies. Along came this film & it really was the introduction of werewolf mythology on pop-culture film. Honestly, this film was pretty damn good. The werewolf in this one wasn't bitten. He became a wolfman on account of 2 bad scientists trying to come up with a serum that would protect survivors of a nuclear war against extreme odds like strong animals would in the wild!?! Go figure. Needless to say, he looks great. He lurks in the mountains of California w/ their snow & lumberjacky citizens. His make-up is great for the time & there are actually a few scary moments.
If you're a fan of the old stuff, both these movies are well worth a watch.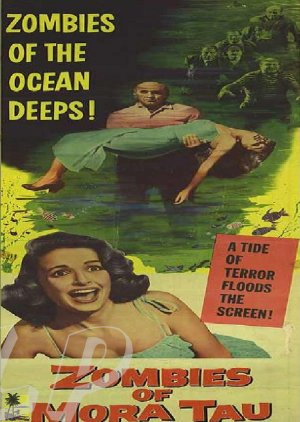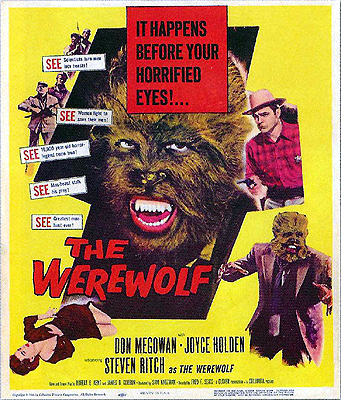 * Both films are best viewed after or while enjoying a couple of belts.