I have started off the new year by actually finishing 4 customs! Woot.
I had a broken Wasp Bishoujo that was missing her wings, had a broken leg, her chest piece was pretty much falling off, and she was scratched and scuffed to high heaven. I got her very cheaply due to all of that. She became a Noto Jubilee. (Shocking.)
I didn't realize how glossy her face was until I took these pictures, so I'll tone that down with some satin varnish, and I haven't decided how I'm going add in powers for her yet. I've been experimenting (and failing on) a few things. We'll see how that goes in the future.
I had also planned to try and make her base look more like her powers than water, but I kept failing with that too. Sigh.

Secondly, I had a Emma Frost limited edition diamond bust that had most of the hair tips broken off of from a fall and from before I got her. I got a regular version (that I like more) to replace her and turned her into Jessica Jones/Powerwoman for my husband. I tried a new paint combination for the base with my airbrush that I'm quite happy with.
I sadly missed a chip in her hair until I had started painting, it didn't stand out for me until then, so that may be fixed in future too. Luckily you can't see it from straight on even though it's right over her forehead.

And lastly, the two Funko Pops are a continuation of the Metal Gear Solid line my husband is requiring of me. Created with Funko's blank male DIY Pop figures. I did Solid Snake last year, and these are Liquid Snake and Venom Snake. Next up will be Solidus Snake. I haven't quite figured out how to do the arms for him yet...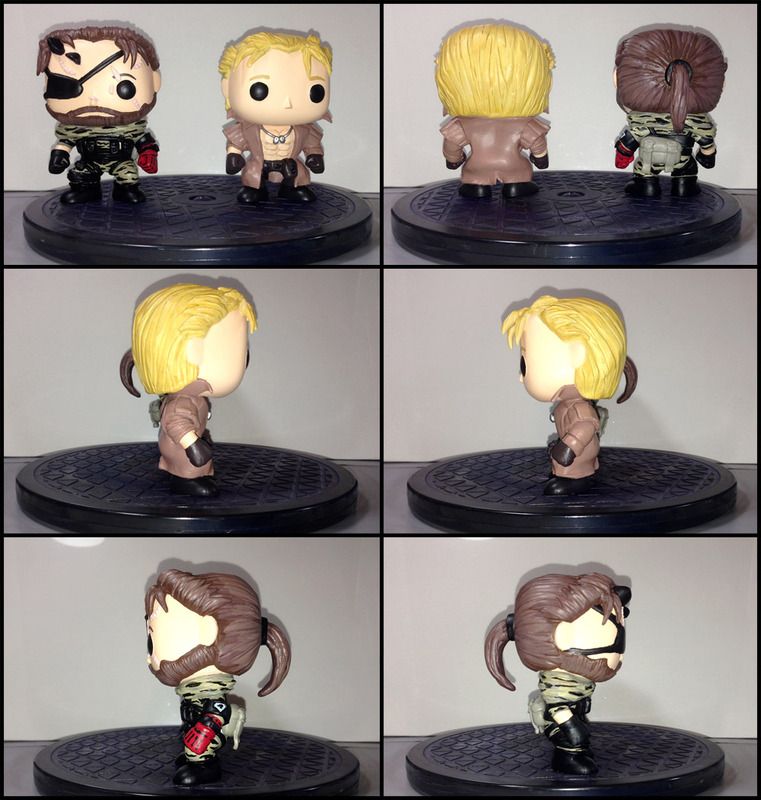 I hope you guys like them.
I added a couple larger shots before they were sealed.